New PORTS in Corpus Christi and Toledo bring safety, economic benefit to marine navigation community
NOAA's PORTS now covers the top 20 seaports by tonnage in the nation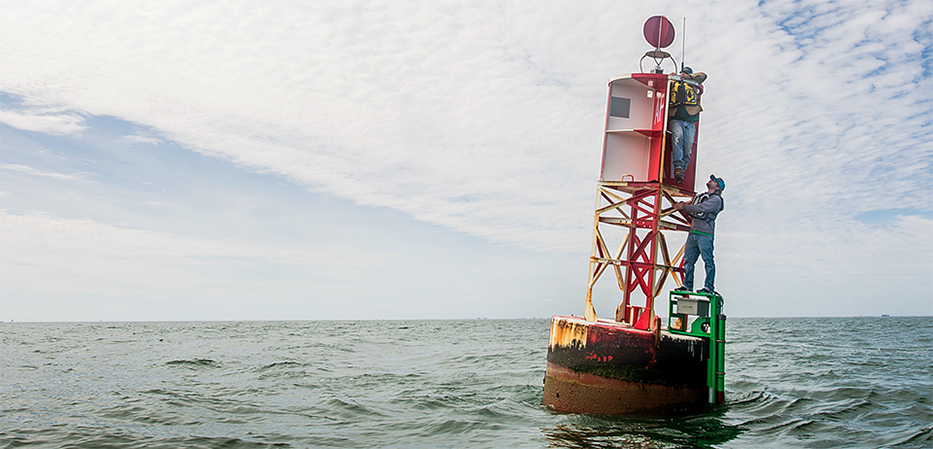 This summer, NOAA established two new Physical Oceanographic Real-Time Systems (PORTS®) that service seaports in Corpus Christi, Texas and Toledo, Ohio. Both systems contain current meters and water level sensors that provide real-time data to pilots navigating large ships through narrow waterways. This information provides considerable navigation safety and economic benefits for the seaports and surrounding communities.
NOAA now has 33 PORTS covering the top 20 seaports (by tonnage), and 76 seaports overall, in the United States.
PORTS is a successful public-private partnership that reduces ship accidents by more than 50 percent, increases the amount of cargo ships can carry, reduces transit delays for commercial traffic, enhances recreational activities, and improves hazardous spill response. Systems around the country provide vessel operators with key environmental parameters in real time, including water levels, currents, waves, salinity, bridge clearance (air gap), wind speed and direction, air and water temperature and visibility..
In Corpus Christi, strong currents in the transit into Corpus Christi Bay make it difficult for vessels to navigate. A majority of the vessels coming into the Port of Corpus Christi are carrying hazardous materials, such as liquid natural gas and other chemicals. The port authority requested a PORTS with real-time current meters to provide pilots with information that can help them safely reach and depart the seaport.
In Toledo, ships using a current meter that was put initially put in as a pilot project, will be able to continue safely traveling the Maumee River with its transition into the PORTS program as a new PORTS in that area. A number of industries along the Maumee River are completely reliant on maritime transportation for the delivery of their bulk materials including cement, grain, petroleum, and iron. The Maumee River Channel averages 500 feet in width but narrows to as little as 200 feet in portions of the navigable channel. NOAA has partnered with the Toledo-Lucas County Port Authority to maintain the meter.
The current meter measures horizontal current profiles and includes a water temperature sensor. It was built to withstand harsh winters and ice in that area.
"The current meter is essential to navigators for making good decisions. Toledo is probably the most dynamic port on the Great Lakes when it comes to rapidly changing currents, water levels and weather. We are very happy to finally have the PORTS system in place where we have one source for all the real time data that we need," said Captain George Haynes, a local pilot in Toledo.
Both PORTS include water level and meteorological information from NOAA's National Water Level Observation Network, a system of 210 permanent real-time water level stations on U.S. coasts and in the Great Lakes. Knowing the currents, water levels, and winds can enable shippers to optimize cargo loads so that vessel captains and pilots are using every inch of available channel depth safely, maximizing profits and efficiency. Just one additional inch of usable draft can translate into millions of dollars of additional cargo per vessel transit.
---