NOAA Harmful Algal Bloom Operational Forecast System (HAB-OFS)
HAB Bulletins (for Coastal Resource Managers):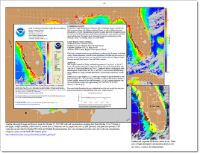 Harmful algal blooms of Karenia brevis, the organism responsible for red tide in the Gulf of Mexico, can impact the health of humans and animal life. The blooms are patchy in nature and the impacts vary by location and throughout the day depending on nearby bloom concentrations, ocean currents, surf conditions, and wind speed and direction. The NOAA HAB Bulletins contain an analysis of ocean color satellite imagery, field observations, models, public health reports and buoy data and forecasts of potential K. brevis bloom transport, intensification and associated respiratory irritation based on the analysis of information from HAB-OFS Contributors & Data Providers. Daily respiratory irritation forecasts by region are also available to the public on the Conditions Report page.
Bulletin Dissemination
Operational HAB Bulletins are sent via email, following the operational HAB bulletin schedule below to a list of subscribers in the public health, natural resource and scientific fields. A week after the HAB bulletin has been issued, it is posted to the Bulletin Archive for public access. Click here to find out how to Request Bulletin Subscription.
Operational HAB Bulletin Schedule
Southwest Florida and Texas:

Twice weekly during active HAB events
Once weekly during non-HAB periods

Northwest Florida to Louisiana and East Florida:

Twice weekly during active HAB events
None during non-HAB periods
NOAA demonstration bulletins for Lake Erie are pre-operational and may not be issued on a routine schedule. Please visit the Developmental Forecast for more information about developmental HAB projects.
To learn more about the HAB-OFS bulletins, visit the Overview page and read the HAB Bulletin Guide, a document that is provided to better understand and interpret the HAB Bulletin.
(The Abode Reader is required for viewing the PDF Document.)

In each regional pull-down menu, posted HAB bulletins are listed most recent to oldest in the following way: Year of Issue, Issue Number, Distribution Date.
Archived bulletins will appear in a new window, you might need to change your pop-up blocker to allow this site or turn off your pop-up blocker.
Operational
Harmful algal bloom bulletins are issued for the Gulf of Mexico by the National Oceanic and Atmospheric Administration (NOAA) National Ocean Service and the National Environmental Satellite Data and Information Service in order to provide notification of bloom conditions to state and local coastal managers in the Gulf of Mexico. Due to distribution restrictions, HAB bulletins are posted to this archive with a one to two week delay.
If you are involved in HAB event response or research and are interested in subscribing to our bulletins:

Include the following information:

Your Name
Work email to be added to the subscriber list
Brief description of your HAB responsibilities
Bulletin region you are interested in subscribing to: Florida (and northern Gulf of Mexico) or Texas